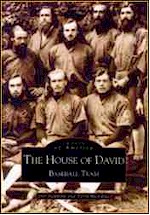 The HOUSE OF DAVID BASEBALL TEAM RESEARCH PROJECT
House of David & City of David Baseball Team colony members
Purchase Options.

Purchase the "House of David Baseball Team" here.

If you feel that any player is omitted from this list, please contact us at peppergame@peppergame.com, or our PO Box at:

PEPPERGAME
PO Box 71
Union, MI 49130.
Buck, Francis "Louis"
Date of Birth: 7/30/1914
Place of Birth: Allgood, TN

Notes

Left colony when drafted for WWII.